Christmas in July!
Santa's Workshop Qualifies for Small Business Grant
Even Santa qualified for a Morris County Small Business Grant, which was personally delivered today to him and Mrs. Claus at their Kinnelon workshop as the Morris County Board of County Commissioners continued to promote a program open to small businesses and nonprofits.
Grants Still Available. Apply Now!
Bob and Pamela Smith – honestly, those are not aliases – were at their "Big Red Santa" workshop to greet Commissioner Stephen Shaw as he delivered the check. Santa said the gesture would win the Commissioner a temporary reprieve from the "Naughty List."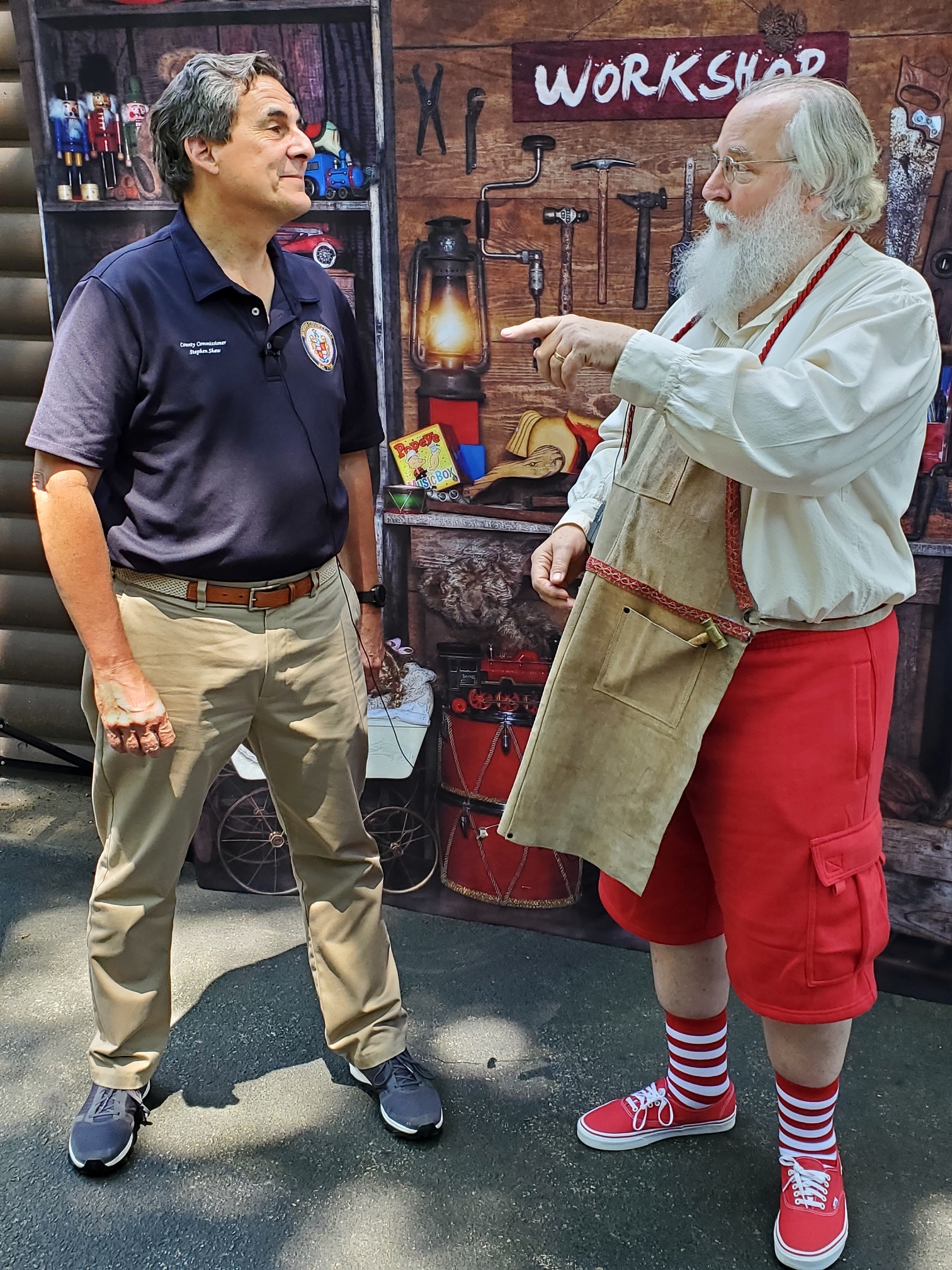 "We consider this to be more than a grant. It is an investment, really, in our community and our small businesses … It's my pleasure on behalf of the Morris County Board of County Commissioners, and really all the residents of Morris County to present you with this letter and this small business check. We appreciate what you do here in Morris County," said Commissioner Shaw.
Watch Santa Stump a Commissioner on Toys From his Childhood
"Big Red Santa," which opened in 2009, was hit hard by the pandemic.
"The grant program is instrumental to making this a more successful year," said Bob Smith.
"This has allowed us to invest in our business and grow it, rather than fold it up," Pamela Smith added.
The couple had to adapt an in-person performance business to a virtual operation overnight.
"We do tree-lightings, parades, children hospital visits and many charity events. But the majority of our business, naturally, is in December," said Bob Smith, explaining how the pandemic shut him down overnight.
"We had even begun expanding, doing country club visits. But COVID forced us to go virtual, and we of course had the expense of the studio set up, and the office set up and the backdrops, the cameras, the mics, the lighting, the monitors and classes on how to do it," said Pamela Smith.
Mr. and Mrs. Claus have since begun to return "Big Red Santa" to largely an in-person business, but are still building back the business and continue some virtual activity.
The Smiths regularly attend training classes to update skills they have honed in dealing with children.  Portraying Santa and Mrs. Santa is much more involved than donning costumes, they said.  Children who may be going through personal difficulties, battling cancer or experiencing problems often ask Santa and Mrs. Santa for advice.
"So, we actually attend a number of classes. How do you deal with sick children? How do you deal with children with autism? How do you deal with children who have tough questions like, can you bring my grandma back? So we belong to several professional organizations and, this is actually growing," Pamela Smith explained.
Learn more about Big Red Santa:  https://bigredsanta.com/
Article courtesy of the Official Website of Morris County.