On Tap in Butler Today: Another Morris County Small Business Grant
Local Brewery Receives $15,000 Grant
On tap today at High Point Brewing Co. in Butler, besides its signature Ramstein Beer, was a $15,000 grant from the Morris County Small Business Grant Program delivered by the Morris County Board of County Commissioners.
Commissioner Stephen Shaw handed over the check with a handshake to Gregory Zaccardi, President and Owner of High Point Brewing, which opened in June of 1994 and operates out of an old brick building on Kiel Avenue.
"We very much appreciate this. Thank you," said Zaccardi.
Joining in the check deliver and a tour of the brewery was Butler Clerk Brandi Greco, representing the borough.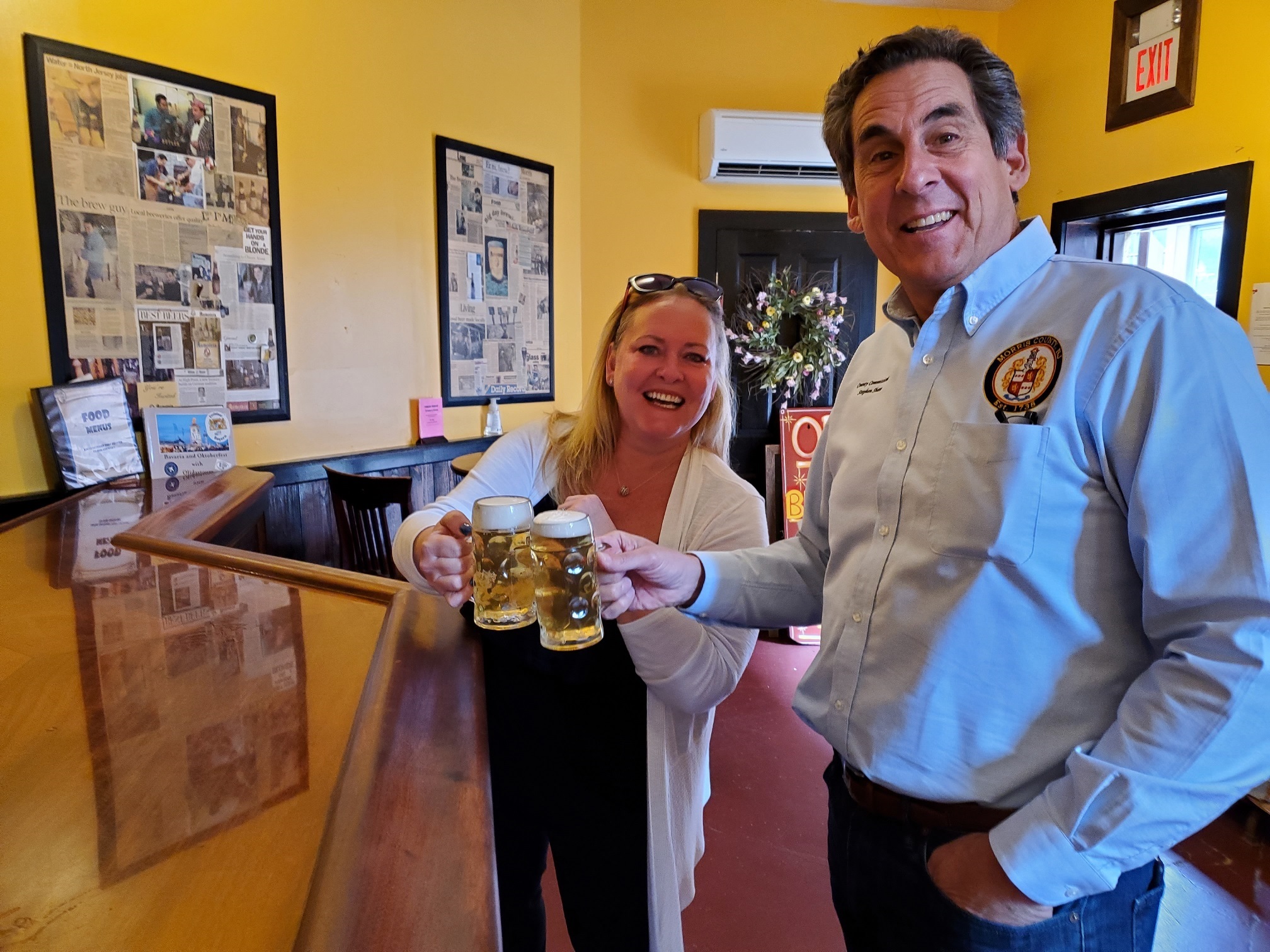 Zaccardi recalled vividly the day in March 2020 when the pandemic resulted in a state order that shut down all breweries – a time when he was about to launch his spring season.
"At that point in time, 80 percent of our business was to restaurants and bars, draft beer to restaurants and bars. So, overnight, we lost 80 percent of our customers without warning. The breweries during Prohibition had more warning than we did," said Zaccardi.
The company struggled forward, turning to focus on its bottle and can line of products, serving packaged goods.
"The community helped us out, and we had people coming in ordering by the case. We also developed relationships with stores in the area. It was tough. There were days we were going, 'I don't know how we are going to do this.'  But after two years, and the restaurants and bars opening up, we are doing well," Zaccardi explained.
During the worst times, his business still had expenses to pay and the price of ingredients continued to rise. The Morris County Small Business grant is designed to assist with those continued expenses.
"It's unfortunate. We lost a third of our small businesses in New Jersey. Some businesses figured a way to adapt, but others perished," said Shaw. "We did not get the millions of dollars in CARES Act federal funds that other counties were given, but when we finally received these funds – American Rescue Plan Act dollars – we had Commissioners who said immediately that we need to get some this funding to small businesses."
Morris County Commissioners are personally delivering some of the grant checks to learn more about the struggles of small businesses, to learn if the grant program
 may be improved and to primarily spread the word that the program remains open.
Apply Now! Go to: morriscountysmallbusinessgrant.com
More than 600 applications have been filed since Morris County Small Business Program since it was launched on Valentine's Day with the slogan, "Morris County Loves Small Business." The Morris County Board of County Commissioners created the grant program from pandemic relief funding issued through the American Rescue Plan Act.
The Commissioners dedicated $10 million to the effort, and Morris County is still accepting applications.
Most of applications heading for final approval will provide each of the qualified businesses and nonprofits the maximum grant amount of $15,000.  While the remaining applications are still being reviewed, the program remains open to new applications.
There is no cost to apply.
The Small Business Grant Program eligibility requirements include, but are not limited to:
Business has 25 or fewer full-time employees (or equivalent)
In operation since Jan. 1, 2019
Located within Morris County
Less than $5 million in sales/revenue
Proof of a decline in sales/increased expenses due to the COVID-19 pandemic
Read the Qualifications & Apply: morriscountysmallbusinessgrant.com
Federal guidelines covering the grant program will determine exactly which expenses qualify for coverage under the grant program and which applications may be approved.
The grants are capped at $15,000 per applicant. However, business owners and nonprofits are encouraged to submit applications that include all costs they believe may qualify for the grant, even if the total amount of a single claim exceeds $15,000.
A final review may determine that some costs submitted for consideration are not covered under the program guidelines. However, by submitting all expenses that may qualify, applicants increase the possibility of getting the maximum amount of grant dollars possible.
Photos:
Top Left: Commissioner Shaw and Butler Clerk Greco hold glasses of some finished product.
Center Left: Gregory Zaccardi, President and Owner of High Point Brewing Co., describes the brewing process for Commissioner Shaw and Butler Clerk Greco.
Bottom Right: Gregory Zaccardi, President and Owner of High Point Brewing Co., pours a sample for Commissioner Stephen Shaw and Butler Clerk Brandi Greco inside the brewery tavern.
Article Courtesy of morriscountynj.gov